De Dietrich Process Systems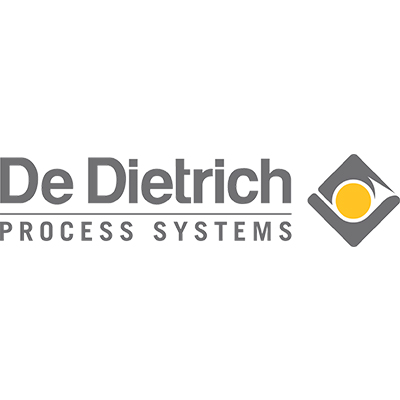 Company Name: De Dietrich Process Systems
Company website: www.dedietrich.com
Contact Person: Nicolas Veyrat
Email: [email protected]
Phone Number: +33 675099349
Feeding solids into process equipment continuously is often required to control exothermic reactions, dissolution rates and reaction rates or times
De Dietrich Process Systems, a well-known partner for providing powder handling solutions to the chemical and pharmaceutical industries recently supplied a turnkey system to do exactly that – allow dust-free handling and precise gravimetric dispensing of powder into a customer's manufacturing process.
A vacuum-assisted, bag handling unit was provided to lift and move 25kg bags from pallets onto a new bag dump station. There, the bags are opened and emptied into the station, with fugitive dust being directed away from the operator by an integral negative-draft filtration system that captures it for later reuse.
From the bag dump station, the powder is then pneumatically conveyed upward using a dense-phase, vacuum transfer system and discharged into a surge hopper on the floor above. The contents of the hopper are continuously dispensed into the process at a controlled rate using loss-in weight technology. The feed rate is continuously adjusted by means of a control loop driven by the process parameters
As with all projects, the suitability of the powder to be pneumatically conveyed was assessed by De Dietrich Process Systems prior to finalizing the system design. This data was reviewed with the customer which provided a high level of confidence. As with all transfer tests, the results were added to a proprietary powder database, which is complemented by other project-specific trials as well as abundant project experience.
Start-up support for the turn-key system was ensured through the global presence of De Dietrich Process Systems. Local teams remain available through the lifetime of the product for support, re-qualification, etc. as is required.
Connect with De Dietrich Process Systems: